Today I was provided the opportunity to speak with the head writer over at Saints Nation, a website dedicated to the dirty, cheating bastards that our Vikings are playing tonight. We got together over some internet coffee and discussed several things relating to both teams, including injuries, Favre bashing, coaches, predictions and more. Read up on it and check out their Bloguin site as well for more info, or as a place to go to vent and taunt. I am sure they'll enjoy it. Here's a little bit of it to get your started, but remember to click on the "read more" to check out the rest:
Saints Nation: I'll lead off with a question – so much is being made out of the Saints playing "dirty" last time we faced each other. That's mostly coming from Vikings fans. What's your take on it? Do you think there's a lot of bad blood between these two teams now?
Purple Jesus Diaries: I would guess a lot is being made of it because it is factual, you see. When the NFL came out afterwards and said they missed the high/low call on Favre, it means the Saints got away with a penalty they should have had. A lot is being said of it now because Brad Childress is an idiot, and he doesn't realize that talking about it is going to make things worse. I don't think the players care all that much, but with so much time to discuss all of this, it certainly makes it easy for everyone to start hating each other.
SN: I think the bad blood is more between the Saints fans and the Vikings fans than the actual players. I agree with you there. You do realize the Vikings were called for almost double the amount of roughing the passer and personal foul penalties during the regular season than the Saints were?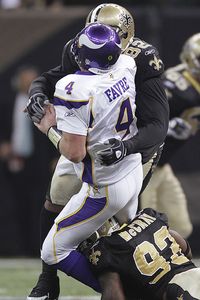 PJD: During the regular season, sure. However in that game it was 5 penalties to 9, Vikes/Saints, and one of those 5 was a total phantom call on Ben Leber in OT. Let me say now – I haven't been at all confident for the Vikings to win this game leading up to this week, yet just this week my perception has changed. As a Saints fan, what are your concerns about your own team or match-ups, heading into this game?
SN: I have to admit to you, defensive, we're in worse shape now than we were at this time last year. We'll have 3 new starters on D. Malcolm Jenkins at safety (Sharper is out), Jo-Lonn Dunbar at linebacker (Fujita left), and Alex Brown at DE (Bobby McCray was cut). I think only one of those 3 is an upgrade. And it's not like we did a great job of stopping you from getting huge chunks of yardage last time. The Saints' offense will be as good as ever, but the defense is going to be a question mark… AND I don't think we can bank on 5 turnovers again
PJD: I've heard about the LB issues (health, loss of players) and of course Sharper being gone. That does look like a concern on the Saints end, being that the Vikings racked up 475 yards of total offense. From a Vikings perspective, our D is beat up as well in the secondary, where we'll need the most help against Breesus. We will only have 3 healthy CBs for the game, which is a recipe for disaster.
SN: I'm banking of Favre being less sharp this time around. Favre has hardly played in preseason, and he's looked pretty rusty when he has. Are you at all concerned he'll be ready?
PJD: I'm always concerned about Favre, because even though he plays on my team of choice now, I'm still a petty enough a-hole to dislike him from the Green Bay years. And you know he's good for a back breaking INT in an important game. But especially now, he's looked old, rusty, and out of sync, AND this offense is in a state of flux to begin the season. I DO think the offense has the potential to be better than last year barring injuries once everyone gets on the same page, but that won't help for Thursday.
SN: I hope you're right. With the Saints' defense not in peaking form just yet, we'll need Favre to be a little less sharp than he was last season. So we've got this whole "Purple Jesus" vs. "Breesus" thing going on. Which one is more holy? I'm pretty sure Drew Brees said 7 our father's, 3 hail mary's, and at least one glory be this morning. Can AP compete with that?
PJD: I've always though AP never had to lead much by words, just by awesome example. Sure, Jesus had some great quotes from the Bible, but a lot of what he did was hang out with the regular folk and score touchdowns without being verbose (so I hear). I think Breesus is so damn nice to everyone that it's hard to hate him, and a whole lot of people use to hate Jesus. … So I'm not sure where that leaves us. …
SN: Brees isn't that nice when he's torching DB's for TD's. Just sayin'.
PJD: But even then, he does it with a smile!
SN: How huge of a blow is Sidney Rice being out to the offense? And is EJ Henderson back to 100% after that injury last year?
PJD: EJ looks to be back to 100%. He was slowly worked back in during the preseason but hasn't been restricted for weeks now. It's actually amazing. He has a damn metal pole in his leg. Rice being out should be a huge deal either. is now healthy and was the leading WR in last years game, they picked up Camarillo from the Dolphins as a slot guy, and with Percy on the outside he has even more space to work with. Also, Shanko up the middle, AP out the back, and this offense could be solid still. Like we said though, they need to get on the same page first.
What about the Saints CBs? I've heard they're a bit thin. Cause for concern against a guy like Favre?
SN: CB is actually in great shape. Greer and Porter are as good of cover guys as you can find and both are healthy. The only guy missing is Sharper, though Jenkins was a 1st round pick and he's really looking good so far as the heir apparent. The real question for the Saints is at Linebacker. If AP can hit those holes and get to the second level, I worry about how our linebackers will perform. Jonathan Vilma is questionable for the game, too.
What's the deal with Percy's headaches anyway? Is he pregnant?
PJD: Percy just had to stop smoking so much pot under NFL rules. I think Urban Meyer covered it up at Florida, and then this training camp he was hit hard. They said they "found something" to fix it, like some high end kind bud, but he looks like he's fine now and ready to repeat as offensive rookie of the year.
SN: So you're saying Harvin has withdrawals from lack of marijuana?
PJD: Withdrawals, or if weed just helped subside the migraine effects, whatever it is, he probably needs it. Addiction is something fierce!
You don't actually like Jeremey Shockey on your team, as a person, do you?
SN: I tolerate Shockey. He has a lot of unlikeable characteristics, but he's pretty popular in New Orleans. He goes out there and plays hard and he's a good teammate. I'm not a big fan of distractions, or guys that play with emotion more so than intelligence. So I'm not the biggest Shockey fan out there like some Saints fans, but I like him ok. If Shockey was on another team, I'm not sure I'd like him.
PJD: If you don't mind, I had some fans ask some questions for a Saints fan. Can I shoot those to you?
SN: Bring it on.
PJD: From larson311: "Do Saints fans hate Brett Favre?"
SN: I think it's 50-50. He's got local roots and he was definitely loved pretty much universally until this retired/coming back bullshit. I think fans across the country hate him right now. Saints fans maybe a little less because of the local connection.
PJD: From VikingsMike88: "Is Bush gonna give his Heisman back? Or better yet, is that fat pig Hargrove gonna cheer again if one of our guys gets hurt?"
SN: Hargrove may be out for this game. Game time decision. So he'll do even more cheering than usual from the sidelines. I have no idea what Bush will do but I hope not. I think most Saints fans, surprisingly, could care less about Bush's Heisman because it a USC thing, not a Saints thing.
PJD: Finally, from a nice fellow, SavorySneaks: "I got a question ask then if they are ready for purple katrina! They can evacuate still its not til coming thursday night." That one is wildly inappropriate.
SN: Yeah, the Katrina jokes are lacking in taste and pretty overplayed at this point. Shame on whoever made that joke, and get some new material. Fans from about 15 other NFL teams have already used that one.
PJD: Since about 5 years ago. I think they're just playing off of Dan Hampton, who we can all agree sucks.
SN: Yeah, he's catching a lot of heat right now. I think people are disconnected sometimes from what we all actually went through and experienced with Katrina. It's definitely a sensitive subject for most Saints' fans and shouldn't be mixed with football. As far as how I feel about it personally, I don't take offense, but I'm just kind of over that joke. Like you said it's been 5 years.
PJD: Do you think the Saints will be able to repeat this year, or what are your expectations in division and conference?
SN: As long as Drew Brees is healthy, they go into every game with a good chance to win. Repeating is so hard, but I do believe they win the NFC South. I predicted they'd lose in the NFC Championship this year, on the road, just because you really have to have everything play out perfectly to win the SB again
What about you, Vikings this year?
PJD: Expectations are high in Vikings land, and probably wrongfully so. The team is really just as good as last year, and will only get better as the year goes on. The schedule is tough, but they just have to get to the playoffs. I think Green Bay is so over hyped it's out of control. It'll be a tight race between those two teams, again, but matching the success of last year seems unlikely. The expectation is a Super Bowl, obviously, but it'll end up being 10-6, one and done in the playoffs probably.
SN: Let me just say that sure, I think Aaron Rodgers is good, but what's up with everyone putting him in a league of his own ahead of Peyton/Brees and Brady? NFL pundits are on this guy's junk pretty hard.
PJD: The Rodgers love is a bit crazy. He's good, and I'd kill a puppy to have him on the Vikings as a franchise QB, but he needs to win something first ala Pey Pey or Brady. or Brees, for that matter
SN: I noticed the comment about Childress being an idiot earlier. Despite the team's recent success, are fans a little sour on him?
PJD: Fans hate him. Everyone knows the team was successful despite him. There hasn't been any change in the offensive coaching since he's been here, yet it took a HoF QB like Favre to come in and make things move. Also, his own personnel decisions like thinking Tarvaris is better to keep than Sage Rosenfels is astoundingly stupid. We're all hoping for a massive firing up here soon.
SN: Yikes. Pretty different than Sean Payton's job security. He can do no wrong.
PJD: Payton has shown he knows offense. Childress was never even allowed to call the plays in Philly. I'd love to know how he actually got the job.
SN: I think Payton could abuse and steal painkillers from the team's facility supplies and no one would care
PJD: Favre already did that and no one cares. It sounds like they need to get on a team together.
Do you already have a prediction for Thursday night?
SN: Sure. There's no way I'm picking the Saints to lose. 34-24 Saints. You?
PJD: I don't see the Saints losing at home, opening season either, but if I had to give a Vikings centric pick, I would say there's a 30% chance they win the game 27-24. But I'm notoriously bad at picking games too, so you're welcome.
SN: I'll take those odds. Just how lame I think it is that Taylor Swift and Dave Matthews are the musical guests. Could they do worse?
PJD: I don't have a problem with Taylor Swift playing if I can put it on mute and tell my wife to go to the next room for a few moments.
SN: I'm hoping I can sit next to AP's girlfriend again this year at the dome. Her jewelry alone is worth more than my mortgage.
PJD: Good luck with that. You should mention she looks familiar, in a magazine … then say you didn't recognize her with her clothes on.
SN: Ha ha, I will definitely do that! I hope you guys lose this game, and I hope Favre gets knocked around silly, but I do wish you good luck the rest of the season.
PJD: That's fair. I hope we can move on to oil spill jokes as Vikings fans to at least try and remain topical.
SN: You had to go there, the bad blood continues!
PJD: Good way to end it. Enjoy the game!