Once again, Purple Jesus Diaries is happy to work with a Bloguin NFL blog where we preview the upcoming Minnesota Viking football game through the eyes of an opponent. I'm not so sure this guy likes to talk about testicles as much as I do, though. This week, we talk with Foxboro Blog, the only blog about the New England Patriots that bothered contacting me. I was a kind gentleman and answered a list full of questions over on their site which will go live someday, while they kindly entertained me with questions about Bill Belichick chasing poon and Tom Brady's hair. Also, I've added some editors notes to only piss the Foxboro guys off AFTER they've so kindly responded to my questions. So read on, and visit their site to check my responses, and of course feel free to harass them, even though the Vikings will probably lose. On to the Q and A!
Purple Jesus Diaries: Brad Childress recently sounded like an a-hole when talking about the Patriots stealing signals and fisting him and his team the last time the Vikings and Pats met. Do you think his claims were legit, first, and second, how much have Patriot fans learned to despise Childress for acting like a Mini-Me to Belichick after several years (Garret Mills, draft picks, injury reports, signals, Moss, etc?)
Foxboro Blog: I don't think Patriot fans despite Childress solely based on those accusations. Do I think they are legit? I am unsure because they were never found of anything by the NFL, but I think the NFL fan disregards Childress as a quality coach because he clearly from what I have seen does not the respect of his players in the locker room and that is exemplified through this whole Brett Favre saga that is being talked about more than the actual game this Sunday.
[Ed. Note - I am not shitting you when I say he wrote that verbatim. For real.]
http://youtube.com/watch?v=
Zb1CmHk9GK0[/youtube]
PJD: I don't know much about the Patriots defense this year aside form Brandon Merriweather almost crying apologizing for the hit he put on Todd Heap, or whoever. The Vikings have some play makers on offense, and will probably try to stick to the running game after last week's Favrerception debacle in Green Bay. Will the Patriots be able to stop the bruising Adrian Peterson will dish out, and then keep up with Moss and Harvin's speed?
FB: I don't think you can stop Adrian Peterson [Ed. Note - From finger banging your dog] fully because he is one of the top 3 running backs, if not the top running back in the NFL. That being said, you can contain this dynamic running back [Ed. Note - Sure, to 135 yards and two touchdowns.]. New England has stopped the run in their last three games, including containing Ronnie Brown, Ricky Williams, and Ray Rice [Ed. Note - Ray Rice? Peterson is going to have a fucking heyday.]. The weakness is the pass defense definitely because Randy Moss is going to be motivated to have a big game, but how are Favre or Jackson going to get the ball down field? [Ed. Note - By throwing it?] I am more concerned about Percy Harvin because of his speed and Minnesota even uses him out of the backfield at times which is a scary thought [Ed. Note - Don't worry, the coach won't make a briliant habit of it.]. He can make plays in the open field and is one of the top slot receivers in the league.
PJD: The Patriots have a tater tot hot dish back at running back, no namers at receiver (Welker's white, he doesn't count), a couple of sexy Spanish sounding tight ends, and then Brady. Can the Pats offense be explosive still, or is it right now just more opportunistic? And are there any weaknesses to, say, the offensive line or protection at all?
FB: I do not think the Patriots' offense can be as explosive as it was in 2007 when they were putting up all those records surpassing the 1999 Vikings [Ed. Note - Cheap shot!]. But, I like this offense because we might not have a deep threat, but we have guys who can catch the ball and get yards after the catch. This is an offense similar to the championship teams from the past decade [Ed. Note - A Patriots fan living in the past? Weird!]. They don't have a big name back, but they have two quality backs in BenJarvus Green-Ellis and Danny Woodhead [Ed. Note - Best names ever? Best names ever.], who has helped in the passing game. The offensive line has struggled, but with Minnesota's lack of pass rush, I can see Brady bouncing back after a tough game at San Diego [Ed. Note - No pass rush? ... He's right. Feels bad, man.].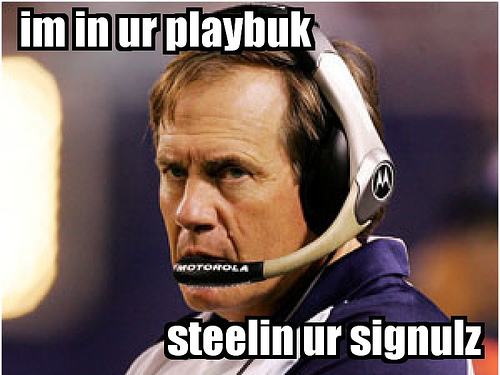 PJD: How hard do you think Bill Belichick laughs when he watches the predictable film from Vikings games? I can't see him reviewing tape and coming away mind boggled by anything Childress does. Do you expect Bill to just toy with the Vikings this week, pull Brady by the second quarter, get cute, or is he just no funny stuff, beat their ass and spit on their grave type guy this week?
FB: I don't think he laughs at any tape from any opponent because he always takes his opponent, which is why nine times out of 10, the Patriots come in prepared to play [Ed. Note - Funny response is unfunny.]. He expects Favre to play this week and Favre always has a flare for the dramatic. I expect Brett to play as well because I always will until I see him with a headset and a clipboard on the sidelines. We are far and gone from the run up and score Patriots from 2007 where he blew out the Bills and Redskins just to name a few.

PJD: How long will Tom Brady grow his hair? And when will he stop being so sexy?! Also, what's your key match-ups and a prediction for this Haunt Fest on Halloween? My guess is you'll probably be right if you feel overconfident.
FB: First, on the hair question, Tom Brady is going to grow his hair out as long as his supermodel wife wants him to [Ed. Note - Correct move, Brady.]. The key matchup for this game has to be who is at quarterback for the Vikings? If it is Brett Favre, New England will need to bring a consistent pass rush at him to test the fractures in his ankle. The Pats have done a good job pressuring quality QB's in Flacco and Rivers the last two games. If Jackson is in the lineup, I would expect more runs from Minnesota and Jackson as a game manager more than a down field threat, so New England will try to prevent him from rolling out of the pocket. As for the Pats' offense, I don't expect Brady to have two bad games in a row because quite frankly he never does. Minnesota only has six sacks in six games, so if Matt Light can stop Jalen [Ed. Note - This shouldn't be a problem at all.], Brady will have success down field. I am never overconfident especially this season where anything can happen and the Vikings have a ton of talent like San Diego that has just underachieved especially with the Pats' young secondary.
FB: Patriots 24 Vikings 14
——
It's awful nice of Foxboro Blog to say he's not overconfident because anything can happen, but let's cut the shit here; Brady is going to splooge all over the Vikings' tramp stamp and then nail super model coke addicts for the entire second half. And personally, I have no problem with that. Hear more about it in tomorrow's game preview, and thanks to Foxboro Blog for reaching out to us.