Because he may be fired if we lose! I really wish there was more to report leading up to the halfway point of the Vikings season than the whole Childress and Moss debacle, but there really isn't. Sure, we can talk about how the Cardinals have underperformed, how their new black jerseys look like bloody stool, or how something called a "Max Hall" played quarterback for them for a while this season, but now one really cares about any of that. It's not gripping headline stuff, doesn't have the HUMAN ELEMENT, that potentially firing someones ass does because he made an organizationally cultural faux pas by cutting a generational player loose without consulting with anyone. Talking "Cardinals Football!" doesn't shrink your testicles in excitement like talking Childress on the hot seat, speculating about head coaching alternatives, and potential 2011 draft picks since we're going to end up with a top 10 pick, promises. However, as much as we all want Childress to get canned like home made pickles it's still pretty crazy to think that if the Vikings win this weekend, they're just 3-5 and still have a glimmer of hope. Somehow. I know, it's just too crazy to even think about it, but it's a reality.The other reality is that we lose, cash in the season, and all hell breaks loose, which may be a whole lot more fun.
Thanks to Randle9311 from Rube Chat for another great game day graphic!
But now I'm on the fence about this whole thing: I admit it, I still don't really hate Childress at this point, even after all of his bone head moves on and off the field after four plus years, or whatever it's been. I don't really know why. Partly because I'm ambivalent now, and have been resigned to a fate that he's sticking around and as long as he's here nothing positive will happen. Sure, you could argue that I should be MORE infuriated and DEMAND change, but come on, we all see how well this same behavior works out in politics. It's all just predicated on hope. Lay off me. The other part of it is that everything else I've heard about Childress away from the Vikings leads me to believe that we would get along really well, aside from maybe the penis references and all the swearing. But as punchdotorg Twitterer alluded to this week (as well as providing the picture above), Childress is pretty cool when you get him one on one. He's been seen hamming it up at Lumber Jack Days in Stillwater before as well, and has done a couple of different interviews with the local papers where he talks candidly and is actually kind of funny. Which is why him sucking at people relations within the Vikings organization is so baffling to me. He's a psychology major that knows how people's minds work, their motivations and behaviors, yet he can't form a solid relationship with a player to save his life. He doesn't even seem to understand discreet people manipulation Machiavelli style. The other card of this is that he actually MIGHT know it all way too well, and he may also understand the actual power he holds and takes calculated risks. It's THIS WRITER'S opinion that he knew Wilf couldn't fire him right now. The team isn't out YET, they have a cake part of the schedule coming up, and if Childress wins he's probably fine. I think Wilf knows this too, where despite being allegedly furious the cut, Wilf knows he's in between a rock and a cock spot too. If he fires Childress now, it sends a message that Wilf's no better than Al Davis (*shudder*) and the players can always pout and get what they want. Childress boxed his ass brilliantly, which almost kind of makes me want to see what else he has up his sleeve.
Now if he'd just leave the play calling and player management to ANYONE ELSE in the organization …
Luckily, it's the Arizona Cardinals: And this is why Childress might be smarter than his mustache would allow. The Arizona Cardinals come in to Zygi's Hood with a 3-4 record and a roster of mismatched parts that makes the zombies on Walking Dead look like sexy prom dates. Larry Fitzy has been injured parts of this season, and they've had both Horse Balls Derek Anderson and the video game Max Hall suit up as quarterback. They've beaten the Rams, Raiders, and Saints thus far this season, but have also lost to the Falcons, Chargers, Seahawks and Buccaneers. I don't know what any of that means. I think they're still in contention for their pap smear of a division as well, which should tell you how badly they'll want this game, but also says just how ugly looking the NFC is this year. The Cardinals are in it? Jesus, they're almost as bad as we are, and will be, if the Vikings end up winning. All that says to me is this retarded team (the Vikings, not the other retarded team the Cardinals) actually has a chances to win a game this weekend, and that says all you need to know about the Cardinals. That, and their fucking uniforms make me want to nuke the state.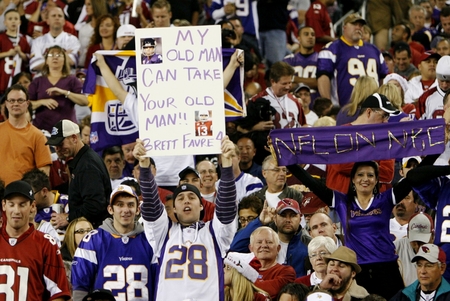 Regardless, the fans are still all pissy: And they will undoubtedly show it at the game this weekend. People have been calling others to wear their number 84 jerseys this weekend to show support for Moss. Others have been trying to come up with clever signs to bring to the game that up until now haven't been super funny. I think it was CapitalJsCorner who I first heard stake claim to the "Waive Childress" sign, but I think we need to offer some better options. I know readers like Feisty Fingers usually heads to the game, so maybe she can make one and take a picture for us and we can all share a hearty laugh. Pretty please? Here are my not-so-funny ideas, but feel free to add yours in the comments:
"If Childress had been on that boat, would we have some real problems?"
"I hate my job! Can Childress fire me?"
"Free Randy"
"Dope" (Done up Obama style, of course)
"Tinucci's sucks"
And so on. Add yours in the comments. I have another idea, but I'm going to make it into a t-shirt that you'll probably see on the side bar later today.
http://youtube.com/watch?v=
D0dCd8-4Skw[/youtube]
Meme of the Week Video of the Week: I'm skipping the meme of the week this ONE TIME because I've had a couple of people send me this video of Hitler reacting to the original Randy Moss trade, and people like watching videos, right? Of course they do. I'd also like to see this re-made very easily to a "the Vikings waive Randy Moss" movie, but I don't make shitty YouTube videos, only shitty photoshops. If you really need a meme fix, and somehow failed to see this earlier in the week, Rich Raven did make a re-appearance in support of Randy Moss discrediting Tinucci's shitty food. Because, you know, they're both super rich. Blue Blood right.
Scotch of the week: I was able to return to my scotch tastings recently and have collected a fine sampling for you individuals. I am thinking that after the exciting, and sometimes stressful, week that we've all had with the rollercoaster of emotions that is Randy Moss being waived, we needed a scotch that was a bit softer on the palate and easy to work into. We don't need some novelty scotch that's going to get you wasted, sending you into a blind fit of rage, and waking up in the cutter next to a transvestite stripper who has her hands down your pants. No, this week we a nice scotch like the Bunnahabhan 12-year from Islay. Clocking in at 46.3 % boozy, this 12-year is a nice amber red, but don't let the darkness fool you. It has a mild and smooth nose with hints of malt and spices in it, tasting even a bit like coffee, toffee, and even a bit of shortbread. It's a subtle taste though, as it's bite is soft (softer still with a bit of water) and a smooth finish. It is sufficient enough to get you drunk if you have a couple of drams during the game, but won't taste like you're drinking gasoline. Which is good, unless you're in to that sort of thing.
Some of that retirement state poon: As you may have deduced, this is Alexis, an Arizona Cardinals cheerleader who happens to be the cheerleader of the week for the team. Hurray you! In her comments on the team site, she claims she is working on being a dental hygienist and a nanny. Huh? Two things. First, sure, her teeth look nice enough where if I went into my dentists office I would trust her to know what she was doing. I would also let her clean my teeth as her mammaries would most likely be dangling in my face. Then I would have to put a hand up and say, "EXCUSE ME MISS, I CERTAINLY APPRECIATE A GOOD BOOB, BUT I AM SPOKEN FOR." Then she'd get all huffy and weepy because I rejected her advances and clean my teeth SUPER good to make up for it and try to sway my opinion. Good try, missy. Second, could you imagine a cheerleader as your babysitter/nanny? Sweet Jesus, I would lock myself in my bedroom so fast and just masturbate all day. I would have awkward boner around her 24/7. As an aside, I feel like I tried to look for Cardinals cheerleaders last year and couldn't find anyone attractive. This led me to believe that they didn't have any, and so my only recourse would be to find hot college girls from Arizona State or the U of A. But, here we are, so whatever. Do your own Google search for college girls, I guess.
Confident predictions: Well, it seems obvious to me that regardless of the Cardinals salty defense and the Vikings horrible looking offense all of a sudden that the Vikings will still end up winning this game. Moss is gone, which means Percy will get covered better (if he even plays!) and we'll end up seeing more of Hank Baskett, Greg Lewis, and Greg Camarillo. … Wait, how did we end up with two Greg's on this team? God dammit. Despite this, I don't think anyone can say they have confidence in either of the two mentally challenged QBs Arizona may be rolling out. Sure, we all still think of the Cardinals as the high flying passing team that went to the Super Bowl, but I'm not seeing it this year. And that is good news as our defensive backs are more banged up than Miley Cyrus' mom. I think Childress will bang it out on the ground and take calculated shots with Harvin, and Shanko down field on some play actions. We saw Favre could move around fine on a busted ankle last week, so we may as well take advantage of that option. It'll be close, but much like the do-or-die Cowboys game, I think we squeak out a win, 24-21. Hurray! That much closer to .500 ball!
Enjoy the game, the scotch, the masturbating that I know you're going to do, and pray EJ Henderson doesn't have a bad flashback. Make sure to come back here and tell me what an asshole I am either on Twitter, Facebook, or e-mail us shitThis e-mail address is being protected from spambots. You need JavaScript enabled to view it This e-mail address is being protected from spambots. You need JavaScript enabled to view it , which we actually like to get I swear. And then let's all watch with wide eyes as my prediction is wrong, we lose, and we all sit on pins and needles to see if Childress gets canned. I'M SO EXCITED!!!