"HEY. WHAT'S UP DOUCHEBAGS. I want to thank you all for changing your plans up today to come out to this UNEXPECTED press conference. I know some of you, LIKE THAT OLD HALF DEAD NIGHT WALKER SID, have a nap to get to, while the rest of you had plans to go tickle your coin purse behind locked doors in the office. WHAT A FUCKIN' LIFE, HUH?!
"Well, we won't take too much of your time here, but I did want to bring everyone who reports on this GREAT FUCKING ORGANIZATION together to let you know that your god damn dreams have been answered, Christmas WEEPED FROM ITS PENIS EARLY, and East is BACK FUCKING ON as the Vikings are announcing today that we have SKINNED, SHOT, AND FUCKED THE EXIT WOUNDS OF BRAD CHILDRESS. Haha, nah, just kidding, but his ass is canned like BUSCH'S FAMOUS BAKED BEANS though.
"Now, I know many of you may ask VIKTOR HOLY SHIT IS HE REALLY GONE and I'm going to say to you GOD DAMMIT, WHAT DID I JUST SAY YOU FUCK FACE? So let me reiterate for you metal plate headed front butts:
"BRAD FUCKING CHILDRESS IS OUT, LESLIE FUCKING FRAZIER IS IN, AND MY PANTS SNAKE IS 14 INCHES LONG.
"It was a pretty easy decision, if we're all being honest here. I've been harping on Zygmut to do this shit FOR MONTHS now. I went to him after we just got done shooting some black tar between our toes, I said SHIT ZIGGS, YOU NEED TO FIRE THAT PEDOPHILE. At first he thought we were talking about Bevell, but sometimes you just have to remind those Jews that not everyone with a baby face actually finger blasts baby butts. I said, NO, THAT CREEPY ASSHOLE WITH THE MUSTACHE. THEN he thought I was talking about Karl Dunbar, and then I said, GOD DAMMIT IT YOU PENNY PINCHER NO, THOSE ARE CUM STAINS ON HIS FACE NOT A MUSTACHE, CHILDRESS, YOU IDIOT! He then more or less agreed with me, or at least came to see it my way, as we talked more about it and locked eyes while Eiffel Towering the pubes off of Amanda's gooter. OH, SHE'S JUST A FUCKING HOT VIKINGS CHEERLEADER AND YEAH WE TAG TEAMED THE STANK OFF OF THAT ASS THEN ATE PIE OFF OF IT LATER.
"Hey, I know it ain't always fair. You think it was Brad's fault that Asher Allen stays up all night drinking and weeping because he can't be a huge homosex in public? NOT LIKELY. You think it's an accident that we hired a Tony Dungy look-a-like to get rid of the gays in the locker room? HEY, THE QUEER HATER SAID HE WASN'T INTERESTED, WE WENT FOR THE NEXT BEST THING. Listen, it's not because none of us don't like the men on men action. I've seen PLENTY OF WANGS in my time with a FUCKING SMILE, TRUST ME. None as awesome as mine, but shit has gotten a LITTLE TOO WEIRD in this locker room in the last several years, and if you think Brad didn't have something to do with that, I present to you exhibit A: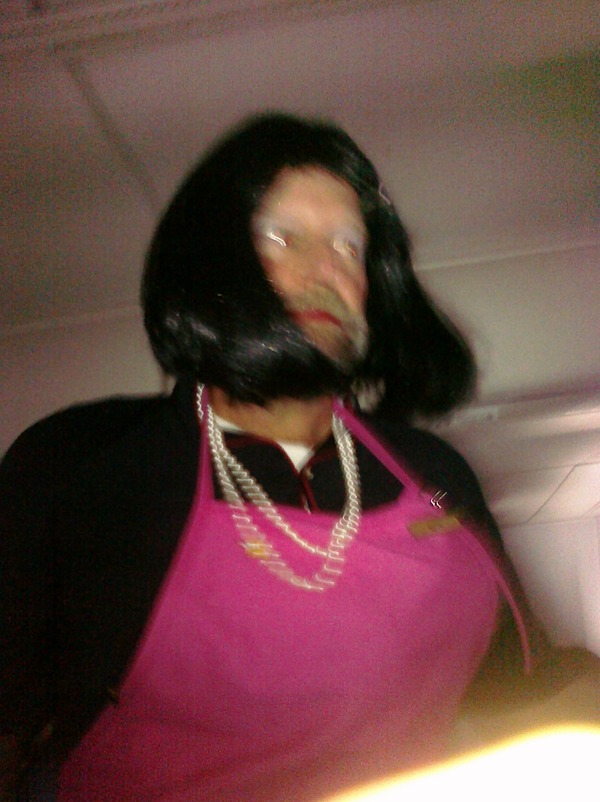 "And exhibit B:

"YOU TELL ME THAT GUY DOESN'T HAVE SOME FUCKING ISSUES, AND I'LL SELL YOU THREE POUNDS OF GRASS CLIPPINGS AND CALL IT PERCY'S WEED STASH.
"But the writing was on the bathroom stall, ladies, right next to the LOOK DOWN FOR A SMALL PENIS sign I wrote while blacked out. Pretty legible too, I might add. But after the gayest of gay Packers and that cattle rancher Aaron Rodgers did his hop skip celebration I just went fucking rage mode. I was ready to skewer Childress on the sidelines then and there. HOW FUCKING DARE YOU LET THIS HAPPEN. I was about ready to snipe his ass right under the Swastika scaffolding before I had to drink a couple of Four Lokko's to actually CALM ME DOWN. CAN YOU BELIEVE THAT SHIT??! CALM ME DOWN!! GAAHH!!!
"But whatever. Mustache is gone and now we got the prisoners running the show. Expect plenty of hookers in the locker room (especially around Longwell's stall …), Taco Bell for lunch, and shit towels in the laundry. Brad always fucking FROWNED ON THOSE THAT PRUDE.
"And I for one couldn't be happier.
"I'd take questions now, but you're all a bunch of assholes, so I out now to go drink my happiness away. It's happy hour down near the school yards, kna'msayin'?? FUCKING SCHOOL GIRL MASTURBATION, YES!!"